Connect. Discuss. Grow.
Monthly Gathering is a space where the women of College Church can connect with one another, discuss relevant topics, learn from God's Word and grow with one another. We hope you'll join us!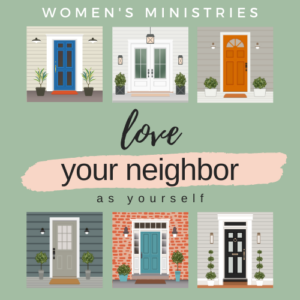 One Saturday a Month
9-10:30AM
These mornings are open to women of all ages and in all stages of life. They usually include a short teaching and testimony as well as time around tables with discussion questions. We hope to create a space where women can get to know each other and have meaningful and relevant conversations.
Spring Semester Dates:
January 14
February 11
April 15
May 13
Love Your Neighbor As Yourself
"Teacher, which is the greatest commandment in the Law?" Jesus replied: "'Love the Lord your God with all your heart and with all your soul and with all your mind.'… And the second is like it: 'Love your neighbor as yourself.' All the Law and the Prophets hang on these two commandments." (Matthew 22:36-40, italics added)
How has your relationship with God been influenced by the care and hospitality of others? Who around you could use some spiritual encouragement or might be ready for you to plant a gospel seed in their heart? Who is your neighbor?
This year, we are excited to explore how God wants to use our lives to be the salt of the earth and the light of the world. We do not pretend to have all the answers but want to start the conversation to sharpen each other and see how God works. We'll be using three books to guide our conversations and invite you to read along with us:
The Hope of Heaven (2021-2022)
Spiritual Disciplines (2020-2021)